Lightarian

™

Programs
The complete list of Lightarian™ Programs consist several programs listed below. 
These programs create powerful, permanent energetic connections for you with one Master, who supports you energetically in your etheric background. Once you receive a Lightarian ™ program, you are then a facilitator (teacher) and can provide these to other people, either in groups or individually, via phone, zoom, and/or meeting in 'real time' in meditation.  This is how they are done and passed on from teacher to student.
All include manual and a guided, scheduled, meditation,
Teacher Certificate, and
Registration through the Lightarian Institute.  Lightarian Institute
---
Lightarian ™ AngelLinks™

Lightarian AngelLinksTM Seraph Rose Auras AngelLinkTM contains the highest of angelic energies and lays the foundation for receiving the more focused energies and traits embodied by each of the Archangels. It must be given first.  All of the AngelLinksTM create permanent energetic connections, who will devote themselves to working intimately and powerfully with you.
Seraph Rose Aura AngelLinkTM: bestows her 'Angelic Flame of Divine Unconditional Love' from the highest level of the Angelic Realms called the Seraphim into your heartspace and radiates throughout your energy field. Rose Aura works in your 'etheric background' as an Angelic Guide and assists you in all matters of the heart, especially the expansion of unconditional love of self and others.
Archangel Michael AngelLinkTM: He is focused on the themes of non-judgment and assists in successfully navigating within the etheric realms (via telepathy, channeling, conscious etheric travel, etc.). AA Michael was the first Archangel to step forward to offer his AngelLink.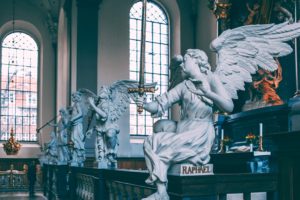 Archangel Raphael AngelLinkTM: Archangel Raphael supports us with an infusion of 'angelic courage and divine healing'. He is called 'the Illuminator,' as he provides a 'Torch of Angelic Light' to help you 'light your way' through life! With Raphael's assistance via this AngelLink, you will be able to more effectively avoid the challenges and the hurdles.
Archangel Uriel AngelLinkTM: Archangel Uriel provides us with an infusion of angelic beauty that allows you to experience the "feminine side of beauty" through a heightened sense of appreciation and the masculine side of beauty and through the stimulation of your talents for creative expression.
Archangel Gabriel AngelLinkTM: Archangel Gabriel's focus is on joy and communications! He teaches us to take time to recognize and experience the existing joys and to manifest new and exciting levels of joy in our day-to-day lives. He can help you to find what "makes your heart sing" by offering you inspiration and divine inner strength during times when there appears to be little to be joyful about.
Cost – $95 each or the whole set for $425.  Order 1 or more.
Lightarian(TM) AngelLinks
$95.00 – $425.00
---
Lightarian ™ Rays

The Empowerment RayTM: Inspired by Ascended Master Maitreya, stimulates a dramatic "spiritual wake-up call" of the highest order, triggers waves of energetic acceleration/vibrational change within the chakras and subtle bodies. Note: The Empowerment Ray is required first before the other Rays.
The Clearing RayTM: Created by Ascended Master El Morya, launches a gentle, yet effective "etheric deep cleaning" stripping away all of your adverse soul programming, inappropriate belief structures and undesired mental and emotional patterns.
The Healing RayTM: Sourced by Ascended Master Buddha, initiates a powerful process of holistic self-healing, returning a state of balance and alignment.
The Manifestation RayTM: Sourced by Ascended Master St. Germain, expands your capacity for manifesting on all levels, opening you to attract spiritual, mental, emotional and physical abundance to serve your higher purpose.
The Activation RayTM: Sourced by Ascended Master Sananda, activates your latent etheric coding and triggers powerful, ongoing spiritual initiations, allowing more Higher Self energies to flow.
The Source RayTM: Sourced by the 12 Divine Virtues and 8 other Ascended Masters, propels you into a unique, highly advanced phase of spiritual development, focused on acceleration of personal ascension. Requirement: Attunement to 5 abovementioned rays.
---
Lightarian ™ Reiki™

Lightarian ReikiTM The Lightarian ™ Reiki Master Teacher/Practitioner Training is offered to Usui and Karuna-based Reiki Masters. Usui Master Teacher/Practitioners will need either the Buddic Boost TM or Karuna Master Reiki training. A series of four levels are available to raise your personal vibration and expand your capability to deliver higher/finer healing energies. Simplicity is emphasized, symbols are unnecessary.
The Lightarian ™ Reiki attunement process is a very effective process, passed from Teacher to student. Levels I and II, III, IV, V and VI attunements are done remotely.  There is usually a slight wait period between each of the levels and the Buddic Boost, however, each student can be dowsed for the correct individual's wait period between attunements.  Master Teacher Certification is given after completion of each level. Once you receive a Lightarian ™ attunement, you are then a facilitator (teacher) and can attune others to these energies in the same manner.  All include manual, remote attunement (via a guided mediation), Teacher Certificate and registration through the Lightarian Institute.
For Usui Practitioners the Buddhic Boost attunement is available for $50 and within 30 days you will be ready to receive Lightarian Reiki I and II.
---
Lightarian ™ Clearing™

Lightarian ClearingTM The Lightarian Clearing TM Program are basically a 'deeper' level of clearing that the other programs. This program used to only be available to teachers, however, it is highly recommended that one attune to the Lightarian RaysTM, especially the 'Clearing Ray' prior to these attunements. Then, the depth level of these attunements in both clearing and releasing is virtually unknown within vibrational energy work. These six attunements have to be taken in order. Also, it is strongly recommended that you wait 20-30 days in between attunement levels. Once you receive a Lightarian ™ attunement, you are then a facilitator (teacher) and can attune others to these energies in the same manner. All include manual, remote attunement (via a guided mediation), Teacher Certificate and registration through the Lightarian Institute.
Level I – Path Clearing: Belief systems are attached as a mode of reincarnation for this life. Belief systems constrict and contain boundaries for soul development. The term shadow tapestry refers to blockages based on these belief systems in our bodies and chakras. Level I clears out cobwebs, or shadow tapestry that block our soul transformatation.
Level II – Birth Pattern Removal: There are fetal belief systems, and some belief systems attached at birth. These belief systems carry both positive/negative energies and stem from areas like: genetics, tribal beliefs, any form of mental patterning, and even the physical lineage itself. Any adverse programming from birth is removed through this level.
Level III – Template Clearing: Levels I and II allow a strong natural healing to occur and then Level III focuses on even deeper adverse programming. It clears the Etheric Template of the Body.
Level IV – Attachment Removal: Level IV includes even more clearing of thread-like energies or attachments. This includes thin and thicker etheric cord attachments in someone unfamiliar with clearing their body. For others there are very thin, residual layers that are cleared.
Level V – Lineage Clearing: Level V clears energies from source energies to our highest levels. These are still forms of adverse belief systems that are being cleared through this level.
Level VI – Veil Removal: Level VI removes the veil that we are born wearing. It makes our inner vision very clear as we watch our lives unfold. There is a part of ourselves that acts as a 'witness' in our lives, both physically and etherically. It just allows for a clearer vision for this 'watcher' version of ourselves and creates more energy balance for us.
Refunds:    Manuals are sent by regular mail and written in English, unless otherwise specified. If you have any concerns regarding the manuals, please contact me before purchase. Attunement fees are NOT refundable once payment has been made.
---
Contact Us Now!
703-851-7954
---
---
Please visit my other sites –
---

---

Disclaimer and Refund Policy –
NO HEALTH CLAIMS ARE MADE and user accepts any associated risks.
Disclaimer: Helen Bramow is NOT medical and does not diagnose nor treats medically. No course, service, or product offered by Health for Life, LLC or its duly authorized representatives is intended, in any way – explicit, implicit, by implication, or in reference, to be a substitute or replacement for competent, traditional, licensed, professional medical care. There are no guarantees on any service or product, unless stated otherwise.
Shipping: Domestic: Product totals less than $40, shipping is about $9.00. For product totals $40.00 or more, shipping is $15.00. Shipping prices, as well as services prices, are prone to change periodically.
NO REFUNDS:  Health for Life, LLC has a strict No Refund Policy. Prices listed on the Internet are subject to owner's discretion and may change.
Class/Event Refunds: Deposits/payments are non-refundable but can be applied towards a future class/event, if notice is given within 2 weeks prior to the event.
---